Muscular New Fords for Sale in Montana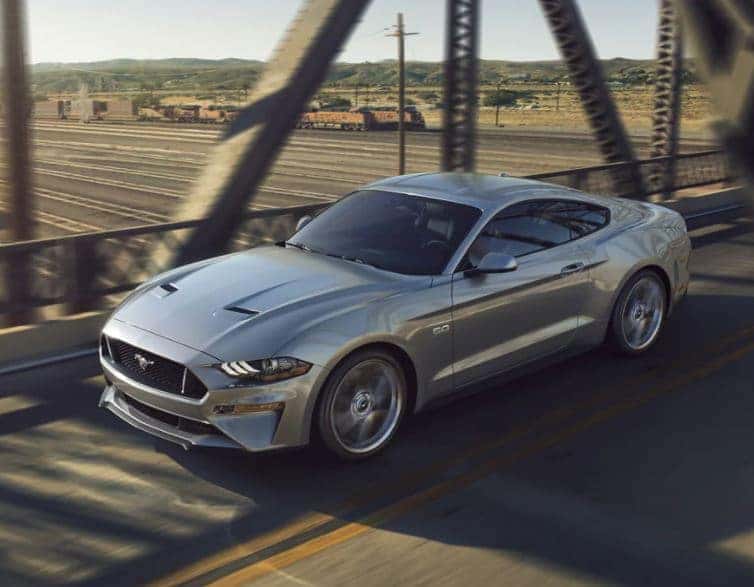 After nearly 60 years, the Ford Mustang is still a well-sought after, premier sports car, perfect for a weekend getaway or for cruising mountain passages in the summer with the top down. The new Mustang, now for sale at Kendall Ford of Bozeman is still an ideal, high performing sports car. Regardless of whether you want a leisurely drive, impressive power that will be the envy of your friends and neighbors, or instant turbo provided by an electric-powered motor, there is a Ford Mustang with your name on it.
Sports Car with Many Trims and Options to Choose From
The Ford Mustang sports car has many trims and options available – too many to mention them all, but let's go through several of Mustang's most popular trims:
The standard EcoBoost, with its turbocharged 310-hp four-cylinder engine.
The GT with its 5.0-liter V-8 at 450-hp. This trim comes with optional active exhaust which lets the engine roar like the beast it is.
The Shelby GT500, a premier, ultra-powerful sports car with a 760-hp V-8 under the hood. There's also a limited number of Shelbys available with more than 900-hp of pure exhilaration.
The Mustang Mach-E, Ford's first electric sports car (EV) which produces nearly 500hp and can accelerate from 0-60mph in an amazing 3.5 seconds!
If you want a sports car with a bit of cargo space, most Mustangs beat the competition in that area, and most Mustangs can be purchased with a hard top in addition to an optional convertible top as well as your choice of automatic or manual transmission. Most Mustang sports cars can also be equipped with several optional high-performance packages that include top-of-the-line tires, brakes, and handling equipment that will transform your Ford Mustang the perfect muscle car.
Custom Order, Purchase Online, or Buy at the Ford Dealership
Feel free to browse our selection of new Mustangs, choose the you want to test drive, and then come into our Ford dealership at 2900 N 19th Ave, Bozeman, MT 59718 to check it out in person. We also serve the nearby communities of Billings, Butte, Laurel, and Helena. While visiting the dealership, value your trade and talk to our knowledgeable Ford Financing staff who can help you find the perfect auto loan. You can also complete our online car loan application if you'd like to get a head start on your financing before coming in. With as many optional trims and performance packages as the Ford Mustang can come with, you may also want to consider placing a Ford custom order for your Mustang so you can get exactly the trim and features that you heart desires.
A third way you can purchase your new Ford Mustang is online. Determine which Mustang you'd like to test drive from our new vehicle inventory and let us know. We'll then take it to you to try out. If it resonates with you, we'll help you with the paperwork, and as soon as the process is completed, we'll drop off your new ride at your residence within 100 miles of the Bozeman Ford dealership. In addition, we'll pick up your trade and take it with us back to the dealership.
If you have any questions about the Mustang, available trims and performance packages, custom ordering, or financing concerns, please contact us online. You can also call our sales department at (406) 296-6980. We'll answer all of your questions and lead you step-by-step through the purchasing process if necessary to make sure you get the exact Ford Mustang you want. We're looking forward to handing you the keys of your very own Ford sportscar. Let's make something great today!